Monday, November 21, 2011
School Wind Project
This post is the fourth and final in our series featuring schools across Virginia and their efforts to become more energy efficient. To see parts 1, 2, and 3, click here.
S
ponsored by the U.S. Department of Energy and the National Renewable Energy Laboratory, the
School Wind Project
is a hands-on initiative that brings wind energy projects into the classroom by providing teachers the opportunity to implement interactive lessons focused on engineering, science and math as well as the necessary lessons for the next generation to learn and solve critical energy issues impacting Virginia.

 
Here are some of the VA regions, schools and educational centers participating in the program:
Want to encourage your local school to be more energy efficient or help students learn more about how to save? Find tips and other helpful educational resources by visiting the At School section of the Virginia Energy Sense website here.  Also learn how your school can become a Virginia Energy Sense partner and take the pledge to reduce energy use, today!
Monday, August 8, 2011
Where We Use the Most Power
Heating and cooling, typically the largest energy users in homes and businesses
Appliances, especially refrigerators, dishwashers and dryers, which together account for about 20% of all energy used in homes
Water heating, on average 9 percent of all energy used in the home
Lighting, the largest energy user in the commercial sector and 9 percent of power used in homes
Electronics, an area where demand is increasing rapidly because of computers, bigger and more high-tech televisions, digital media and appliances
For more information on the biggest sources of electricity demand, visit this page on the Virginia Energy website to read more about energy use in Virginia.
Tuesday, May 31, 2011
Be Smart. Be Cool. BE PAID!
This post was submitted by Adam, from the Arlington Initiative to Reduce Emissions (AIRE).
  
Dominion Virginia Power rolled out a Smart Cooling Rewards program that single-family residents can take advantage of.
What's the Smart Cooling Rewards program?  I'm glad you asked.
Dominion will pay you $40 a year to let them install a device that cycles your air-conditioning system off during periods of peak demand.  This is smart grid technology for your air conditioner that is available to Arlington residents in single-family homes.  It benefits our community, the environment, and your wallet 
Sign up today and share this with your neighbors: http://bit.ly/cbywpE 
Thursday, May 26, 2011
Simple Way to Save on Power Bills
Did you know 30% to 50% of your electricity bill pays for the energy lost through small holes and cracks in your home? This is known as air leakage – and it's the biggest cause of heating and cooling loss. Cracks are often found around pipes, door frames and electrical outlets.
Fortunately, there are some easy fixes for smaller air leaks that you can seal on your own with products like caulk, spray foam or weather stripping. You can buy any of these products online or at a local store for under ten dollars. With just a little time sealing air leaks, you will cut down on air loss and save money on your monthly energy bill. With a small investment and an hour or so sealing air leaks, you could save hundreds of dollars on your power bill.
Follow us on twitter @VAEnergySense
Friday, April 8, 2011
Thursday, April 7, 2011
Whether it is one guy convincing 100 neighbors to go solar, or a cooperative of community-owned wind power, "power to the people" takes on a whole new meaning when it comes to distributed ownership of renewable energy. Now Rob Hopkins of Transition Culture reports that a group of residents in Lewes, England, are banding together to fund the installation of 544 solar panels on the roof of their local brewery to create a community-owned power station. They just have a race against the clock to beat Government u-turns on the solar subsidies that make it viable: For the rest visit Treehugger.
Follow us on Twitter @VAEnergySense and at facebook.com/virginiaenergysense
Tuesday, March 29, 2011
Friday, March 4, 2011
Thursday, February 3, 2011
This international competition was held in Italy. 
Preview: The challenge in the competition was to design an alternate use for gorgeous concrete bridges built in the sixties by some of the world best engineers, like Pier Luigi Nervi; they are being replaced by new shorter routes that are mainly in tunnels.
The winners were PR+OFF from France: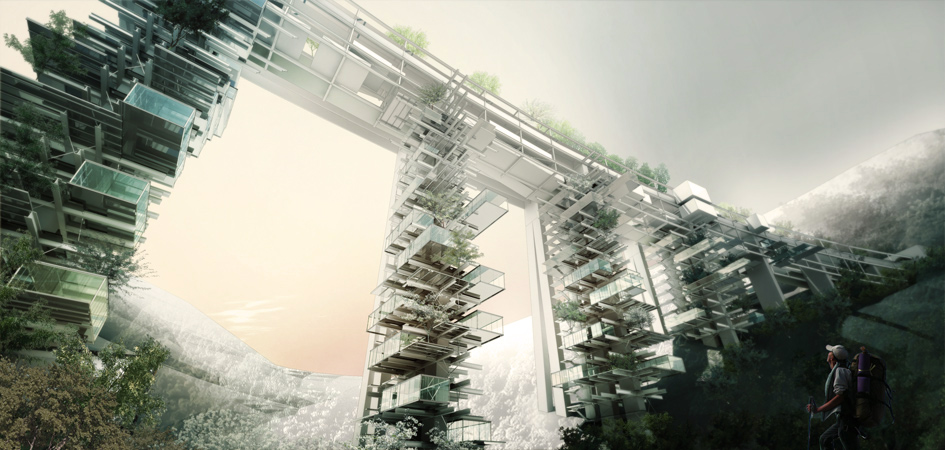 Wednesday, February 2, 2011
Preview:
Paving new bike paths is a great way to encourage carbon-free transportation and cut car emissions, and now The Netherlands is getting ready to roll out an energy-generating solar cycle path. The project, known as SolaRoad, has been developed by the TNO research institute along with the Province of North Holland, the Ooms Avenhorn Group and Imtech. It is currently slated to be constructed in the town of Krommenie, near Amsterdam.