Thursday, February 27, 2014
Energy Saving Tips for the Garage
Let's say you have completed your personal home energy saving checklist.  You've caulked and sealed cracks and gaps around your home, you use a programmable thermostat that regulates your home's heating and cooling when you're away, and your neighbors know that you've bulked up your insulation levels in the attic. You've done great! But alas, there may be more energy- and cost-saving opportunities you can tackle.
Even the most energy efficient homeowner can easily forget about the lesser-used spaces in your home. Garages, especially those connected to your house, can contribute to high energy bills in a handful of ways. Here are a few simple tips to keep in mind:  
Appliances: Take note of that old refrigerator hanging out in the garage. More than 60 million refrigerators are over 10 years old, costing consumers $4.4 billion a year in energy costs. If your refrigerator was made before 1987, it costs you around $190 per year to run – even if it's empty! Upgrading to an energy-efficient fridge with the ENERGY STAR label could cut your refrigerator energy usage by up to 70% and save you close to $133 every year.* And if you aren't quite ready to replace it, keep it unplugged until you really need it. With some creative storage and grocery shopping habits, you may find that kitchen refrigerator is plenty to handle your family's cooling needs. Use the ENERGY STAR Savings Calculator to find out exactly how much money you'll save by replacing your existing refrigerator.
Water Heater: If your water heater lives in your garage, now would be a good time to think about insulating your water heater pipes. Using pipe insulation available for purchase from online retailers and your local hardware store, insulate the first five feet of pipe coming out of the top of your water heater. If the whole length of exposed pipe between the water heater and the wall is less than five feet, insulate the full length. Insulating pipes also help prevent pipes from freezing and bursting in cold weather.
The garage door: If you're feeling drafts near doors inside your home, just imagine how your largest door may be! Thick, durable weather stripping around the garage door will prevent heating or cooling you're paying for from escaping and outside temperatures from coming in. Apply fiberglass duct wrap on the inside of the door to make it even more energy efficient. Keep the garage door closed as much as possible. Make sure the walls shared with the interior of your home are also well insulated. If heat collects in your garage during the summer, the hot air can seep into your home and raise the cost of air conditioning.
Lighting:  Lighting is one of the simplest things you can change inside or outside of your garage. Since lighting uses about 20 percent of a home's overall energy, switching to more efficient bulbs like CFLs or LEDs can cut your energy use significantly — they're more efficient than traditional incandescent bulbs and last 50 times longer than a traditional incandescent bulb and 10 times longer than a compact fluorescent!. While CFLs and LEDs may cost a bit more at the store than your old light bulbs use only 20%–25% of the energy and last up to 25 times longer than the traditional incandescent bulbs they replace.
For more tips to start or continue saving at home, visit www.virginiaenergysense.org.
*Source: ENERGY STAR
Friday, February 14, 2014
Do Something Sweet for Your Home (and your wallet) this Valentine's Day!
On Valentine's Day this year, besides the normal flowers and candy for loved ones, why not take a few moments to show your home and wallet some love? Here are just a few simple, quick steps (with little or no cost!) to help make your home more energy efficient during these cold months.
Take Advantage of the Sun: Before you leave in the morning, try to take advantage of the sun's rays to naturally heat your home by opening the blinds to let the sunlight in! When you return home after the dark, make certain to close the blinds to keep the chill out.  Find out more about energy efficient window treatments.
Maintain Your Heating Systems: Take a moment and schedule a service for your heating system. And be sure to regularly replace your furnace filters to keep your HVAC system from working harder than it should be. If you have pets, you may need to replace (or clean reusable) filters more regularly to remove dust, dirt and dander.
Adjust the Temperature in Your Home: One of the simplest and most effective quick tips is to install and properly operate a programmable thermostat to help reduce heating and cooling costs — the biggest portion of your energy bill. Seems like a no-brainer, but check out this podcast from ENERGY STAR for instructions on operating your thermostat. Use your programmable thermostat to easily set the temperature back just a few degrees when you leave the house or won't notice the change, like when you're sleeping.
Turn Down Your Water Heater: During average seasonal temperatures, energy consumed by heating your water heater accounts for 18% of your energy bill. Though default manufacturer settings may be closer to 140 ° Fahrenheit, setting your water heater to 120° F should be sufficient for your needs while easily reducing your energy use.
Install Gaskets Behind Outlets & Switches: Installing foam gaskets behind electrical outlets and light switches to reduce air leaks and to prevent heated and conditioned air from escaping through small holes. You can also use gaskets to seal off recessed lighting and save energy.
Visit virginiaenergysense.org for tips to help you become even more energy efficient throughout your entire home.
Monday, August 13, 2012
Looking for home energy efficiency incentives and rebates? The search is over—
Looking to make some big energy-efficiency changes in your home? We can help!

Virginia Energy Sense has compiled an easy-to-use list of all federal, state and utility incentives available to Virginians.  These can help you offset purchases and installation costs of energy efficiency upgrades and equipment, and can even help you lower your tax bill.  Now that's a deal! 
Here's a brief overview of the incentives available, but be sure to visit our Incentives page to find direct links to more information.
Renewable Energy Rebates
Renewable Energy Tax Credit – 30%tax credit for renewable energy purchases  
Appliances and Energy Efficiency Equipment
Charlottesville Gas Residential Energy Efficiency Rebate – $100 rebate for energy efficient equipment
City of Danville Utilities Home$ave Rebate Program – $25-$350 rebates for energy efficient products
Columbia Gas Energy Efficiency Rebate – $50-$300 rebates for energy efficient appliances
Geothermal Heat Pump Rebate – 20% rebates for geothermal heat pumps
Load Management Program for Electric Water Heaters and HVAC – Rebates for energy efficient hot water heaters and/or HVAC repairs
Thermostat Rebate for Charlottesville Gas Customers – $100 rebate for the purchase and/or installation of a programmable thermostat
Audits and Home Efficiency Improvements
Dominion Virginia Power Free Home Energy Audit for Income-Qualified Customers – A free in-home energy audit for Dominion customers
Dominion Virginia Power Smart Cooling Rewards for Smart Switch Installation – A $40 rebate for Dominion customers who participating in Smart Switch program
Home Energy Loss Prevention (HELP) – Free visual energy audit; rebate for selection of energy efficient equipment and other energy and cost-saving home repair benefits
NEXT STEP Energy Efficiency Rebates (Hampton Roads Area Residents) – $1500 rebates for non-appliance Energy Star Upgrades; $2,500 for air sealing, duct sealing, & insulation
Rappahannock Electric Cooperative – Free energy audit
WarmWise Home Savings Evaluation – Free online energy audit
Weatherization Assistance Program – Financial assistance for weatherization
Monday, April 23, 2012
How to- Top 10 Efficiency Upgrades Renters Can Make
When you think of home energy savings, oftentimes, folks assume they must own their own home to make changes and energy efficient upgrades.  But there's actually plenty of things renters can do to help reduce their energy impact, including many simple and low or no cost projects that can still bring a significant impact.

If you live in a rental property and can't commit to more permanent efficiency solutions, we have a list of projects just for you. Once you've cleared the project with your landlord, reference these 10 ideas to reduce your utility bills and energy use:
Install a Programmable Thermostat: A programmable thermostat makes it easier for you to save energy by offering specific settings to regulate temperatures in your home while accounting for variables including time of day, seasons and your schedule. Programmable thermostats can range in price from $20 to a few hundred dollars, but check with your utility provider — some may install one for free or provide an incentive towards your purchase.
Install Gaskets Behind Outlets & Switches: You should install gaskets to prevent unnecessary heat gain or loss depending on the time of year. The purpose of foam gaskets is to seal off the wall cavity behind outlets & switch receptacles. If you were to conduct a "blower door test," you would be amazed to find a generous amount of outside air blowing out from these points.
Caulk & Seal Around Windows and Doors: Leaks and drafts cause unnecessary expenses. Weatherize your home by caulking and weather-stripping all doors and windows. Also use locks on your windows to make them tighter and draft resistant. According to the Department of Energy, if you reduce drafts in your home you can cut your energy bill by as much as 30%!
Use Power Strips: Put laptop AC adapters, cell phone and other electronic device chargers on power strips that can be turned off — or will turn off automatically. The charger draws power continuously, even when the devices are not plugged into the adapter.
Check Your Water Heater Settings: Lower your water heater's maximum temperature — 120 degrees should be sufficient. The energy savings are 7-11% of water heating costs. You can also wrap your water heater with an insulation blanket available at your local hardware store.
Replace The Furnace Filter: Have your cooling system serviced once a year and regularly replace furnace filters. During the summer months when cooling is used most frequently, change or clean furnace filters once a month.
Use Energy Efficient Bulbs: Replace regular light bulbs with energy efficient compact fluorescent lights (CFLs). Consider LED lights for outdoor areas. Switching one CFL can save $40 or more over the lifetime of the bulb and LED lights use at least 75% less energy than incandescent lighting.
Install Window Shades: Keep shades and curtains closed during the day on the south side of your home to prevent your air conditioning unit from working twice as hard to cool the space.
Consider fans: They move the air around spaces and that circulation action can make rooms more comfortable — even at higher temperatures. Fans usually allow for a 3 to 5 degree higher temperature setting without sacrificing comfort and each degree saves about 3% on cooling costs. That could mean cutting one of your biggest energy inputs by 15% and saving hundreds of dollars every year.
Clean Your Refrigerator: By cleaning the coils on the back of your fridge you'll help one of the biggest energy hogging appliances run more efficiently.

What other ideas can you think of to help save energy around your home? Share your ideas with us on our Facebook page and we'll share with other Virginians so we can all work to meet the state's goal to reduce electricity consumption by 10%.
Monday, April 9, 2012
Monday, April 2, 2012
Q&A with Virginia Energy Sense Resolutions Sweepstakes Winner
The first three months of 2012 flew by, but Virginia Energy Sense is hoping those energy efficiency resolutions haven't flown out the door!  To keep your energy efficiency goals on track and give you some fresh ideas just in time for spring, Virginia Energy Sense caught up with Pamela Covington, our second Resolutions Sweepstakes winner, to get her thoughts on how other Virginians can 'Value Your Power.' Read on to see what Pamela had to say about energy efficiency:
VES: One appliance/tech gadget you can't live without?
PC: The one thing I can't live without is my computer. I practically do
everything on it now from Facebook, Twitter, entering sweepstakes to finding awesome deals to save money on everyday items.
VES: Favorite tip for saving energy around the house?
PC: Simply turn off the lights, TV, computer and game consoles when you are not using them.
VES: Finish this sentence: One way I think Virginia can help achieve its 10% goal to reduce electricity consumption is: 
PC: Virginia can help reduce electricity consumption by educating the public through as many means as possible; using the week around Earth Day for businesses to offer coupons and "try me" periods for energy efficient products; and offering incentives to businesses to help promote sales of more energy efficient products to consumers. 
VES: What's your biggest challenge when it comes to saving energy? 
PC: Affordability. I know it makes sense in the long-term; however, when you are trying to really stretch your finances to cover everything, it really makes the difference.
Check back with us, weekly, to learn more energy efficiency tips and ways to save on your utility bills. In the meantime, visit our Facebook page and tell us what you're doing to 'Value Your Power' and save energy throughout 2012.
Tuesday, February 21, 2012
How to: Reduce Energy Costs with Window Dressings
Curtains, shutters, shades and blinds—did you know these window coverings could actually save you money? Believe it or not, both indoor and outdoor window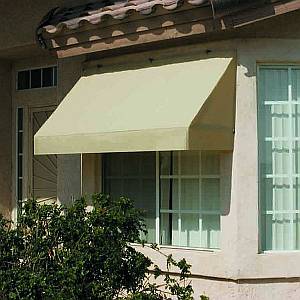 coverings are great ways to reduce heating and cooling costs year-round.
Here are a few examples to help you save energy by using window coverings:
Window awnings can reduce solar heat gain in the summer by up to 65% on south-facing windows and up to 77% on west-facing windows.
Window b

linds—vertical or horizontal slat-type—are more effective

a

t reducing summer heat gain than winter heat loss.
Draperies should be hung as close to the windows as possible and shoul

d fal

l to the floor or windowsill to reduce heat exchange or convection.
Installing an insulating window panel or pop-in shutter is a fairly simple D

IY project that doesn't requir

e any hardware. Panels are made so that the edges seal tightly against the window frame. Seals can be made from magnetic tape or Velcro.
Mesh window screens can diffuse solar radiation, reducing heat gain in the summer. Effective on east- and west-facing windows,

 

the screens are mounted in an exterior frame and cover the entire window. 
Properly designed exterior shutters may provide the best possible window insulation system in addition to several other advantages:

o   Weather protection

o   Added security

o   Doesn't require interior space

o   No thermal shock to windows if left closed.
For more information on how you can save energy around your home, visit the Virginia Energy Sense website's 'At Home' section.
Monday, September 19, 2011
Alexandria Company Helps Nearby Community Save Energy
Not only do Virginians take their power seriously but they are also showing nearby residents how they can value their power. Alexandria-based Continuum Energy Solutions is working with a Silver Spring, Maryland townhome community to weatherize seven homes. From upgrading insulation to filling cracks in walls and ceilings, the community is eager to save energy as the weather turns cooler. 
Since improvements were completed for a number of community residents at the same time, Continuum offered a 15% discount towards the costs of the community's energy upgrades, which will ultimately deliver longer term savings on each home's monthly utility bills.
To learn how you can take similar steps to weatherize your home and make other energy efficient upgrades that can save you money on your power bills, visit the At Home section of the Virginia Energy Sense website.
Read the full article from Gazette.net.
Wednesday, July 6, 2011
How a Large V.A. Manufacturer Slashed Energy Costs—Keeping Jobs and Operations in the U.S.
The Volvo Trucks New River Valley (NRV) plant, located in Dublin, Virginia, is the company's largest truck manufacturing facility in the world. They're also the largest employer in southwest Virginia, with about 2,200 employees. In December 2009, they joined the Department of Energy's (DOE) Save Energy Now LEADER initiative, which called on manufacturers to take a pledge to reduce their facilities' energy intensity by 25% over 10 years. Since becoming a LEADER company, Volvo's plant in Dublin has tapped into DOE's resources and has reduced their energy intensity by almost 30% in only one year.
How did they do it?
By addressing common sense issues pertaining to energy efficiency the Volvo plant was able to cut costs. To start, the plant established an energy committee tasked with identifying and implementing energy efficiency projects. They also kicked-off a contest to engage employees in identifying ways the plant could be more efficient. Employee-suggested projects ended up saving the plant 546,543 kilowatt hours per month from 2009-2010, resulting in approximately $33,000 per month in cost savings.
End Results
Overall, the Volvo plant has saved about $2 million, with an initial investment of $850,000. Volvo's energy committee continues to identify ways for the plant to be more energy efficient, and the company expects another 10%-20% reduction in energy intensity this year. The investments Volvo has made in energy efficiency has helped the manurfacturer cut costs, maintain jobs, and keep it operations in the U.S.
For more info and original posting go to Energy.gov Energy Blog.
Monday, December 20, 2010
By
Scott Harper
The Virginian-Pilot
December 20, 2010
Virginia Beach has become the first city in Hampton Roads to offer tax relief to homeowners and businesses that go the extra mile to conserve energy.
Only a handful of other localities in Virginia have taken advantage of the tax-cutting authority approved by state lawmakers in 2007. The idea was to create a financial incentive for more people to make their homes, offices and buildings more energy efficient. (Click link to read more.)